PRE-ORDER. Secure your packs now.
THIS ITEM IS ON PRE-ORDER Since we experienced higher volumes that anticipated (THANK YOU!).
This is a pre-order opportunity for a limited shipment that will be arriving the 13th of December.
It is important to note that this is a first come, first serve basis, meaning that the individuals who place their orders first will have priority in receiving the items.
Deliveries will start on 13th December.
Kim & Kimmy - Size 5 Pants, 12 - 17kg, Qty 42
Regular price
Dhs. 75.71 AED
Regular price
Sale price
Dhs. 75.71 AED
Unit price
per
Sale
Sold out
Pre-Order now. Deliveries for this limited shipment will start December 13th. Secure yours now.
Announcing the Superior Baby Pant for No Leaks, No Rashes and No Accidents.
Do You Want to Wave Goodbye to Rashy 🔥 Bottoms and Say Hello to Happy Babies?
Yes Ma'am These Fancy Pants are Here to Save the Day!
This is the superior pant that busy parents go to when they need absolutely NO Rashes, NO Leaks and want to guarantee their little one is comfortable All Day (And Night) Long ☀️🌛
Made with Eco-Friendly 🌱 (FSC Certified) Cloud-Like Soft Pulp Imported from the United States and Top of the Range Japanese Absorbent Polymers (World's best quality).
This Pant is truly a
cosmopolitan world-class work of art. 

 

✨

 

✨
Which not only feels, smells and looks good, but it keeps your baby Rash Free, Leak Free And Comfortable ALL Day (And Night) Long!
That's what we call LIVING LIFE!  👏  👏  👏
So let's recap...
Is Your Baby Doing Everything That it Wants To Do, Or Is It Holding Off Due to Discomfort? 
Try Kim & Kimmy And If You Can't Tell The Difference, We'll Refund You In Full.
No Questions Asked.

"My Baby's Face Looks Like He's Riding a Cloud. You Can Tell When my LO is Wearing a Kim & Kimmy by His Look..."
Upgrade Your Pants! Give Your Bundle of Joy Cloud-Like Softness Comfort.
Here's What YOU Need to Know:
✅ You'll Get The No Leak Guarantee! (If it Leaks we'll change it for FREE - MoneyBack Guarantee)
✅ You'll Get an Incredibly Soft Pant (This means NO rashes)

✅ You'll Get a Responsibly sourced Diaper (FSC certified) Save the Planet.. And your baby from harmful rashes one diaper at a time!
✅ You'll Get a Cruelty Free AND Vegan Diaper! (Certified by PETA)
✅  You'll Get To Choose From Four Hand-Crafted LIMITED Designs. (Designers have spent months doing these beautiful prints)
✅  You'll Get an Ultra-Thin Pant So Your Baby Can Play All Day, With None of the Downsides!
⏰ These are moving fast 🔥 - Get them while they are still available

.

 
Find the perfect size for your little one.
Share
Shipping Times

FREE SAME-DAY Delivery when you order before 12PM in Dubai.

Next-Day delivery for other Emirates.

(Monday - Saturday)
Ingredients

Sustainably sourced fluff pulp, Super Absorbent Polymer (SAP), Leg cuff nonwoven, Back sheet Nonwoven, Back sheet Film, Top sheet Nonwoven, Wrapper Nonwoven, Front tape, Waist Band-Elastic, Leg elastic, Leak guard elastic
Features

Cruelty Free
Vegan

Bubble Comfort Waistband
Latex Free
Fragrance Free
Wetness Indicator
Return policy

If you are not satisfied with Kim & Kimmy products returns are accepted within 5 days of your order date. After we receive your returned items, we will process your refund onto your original form of payment.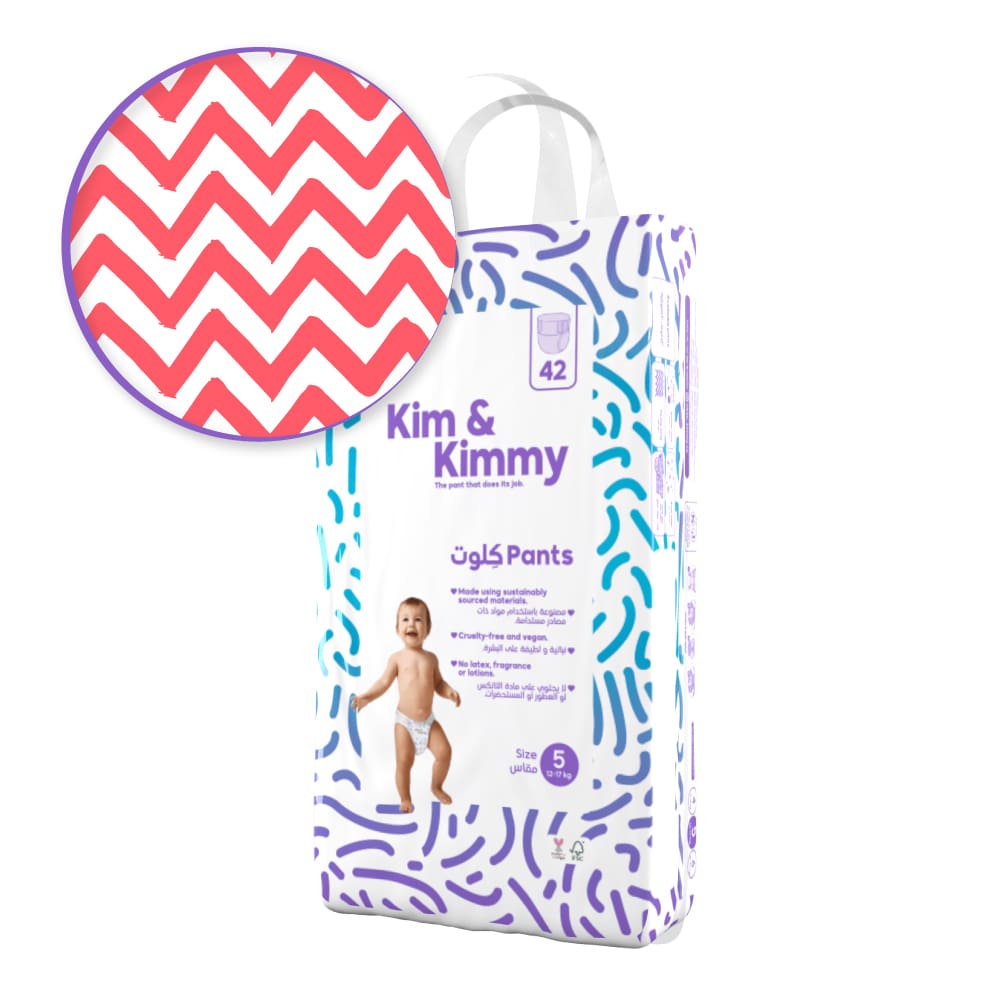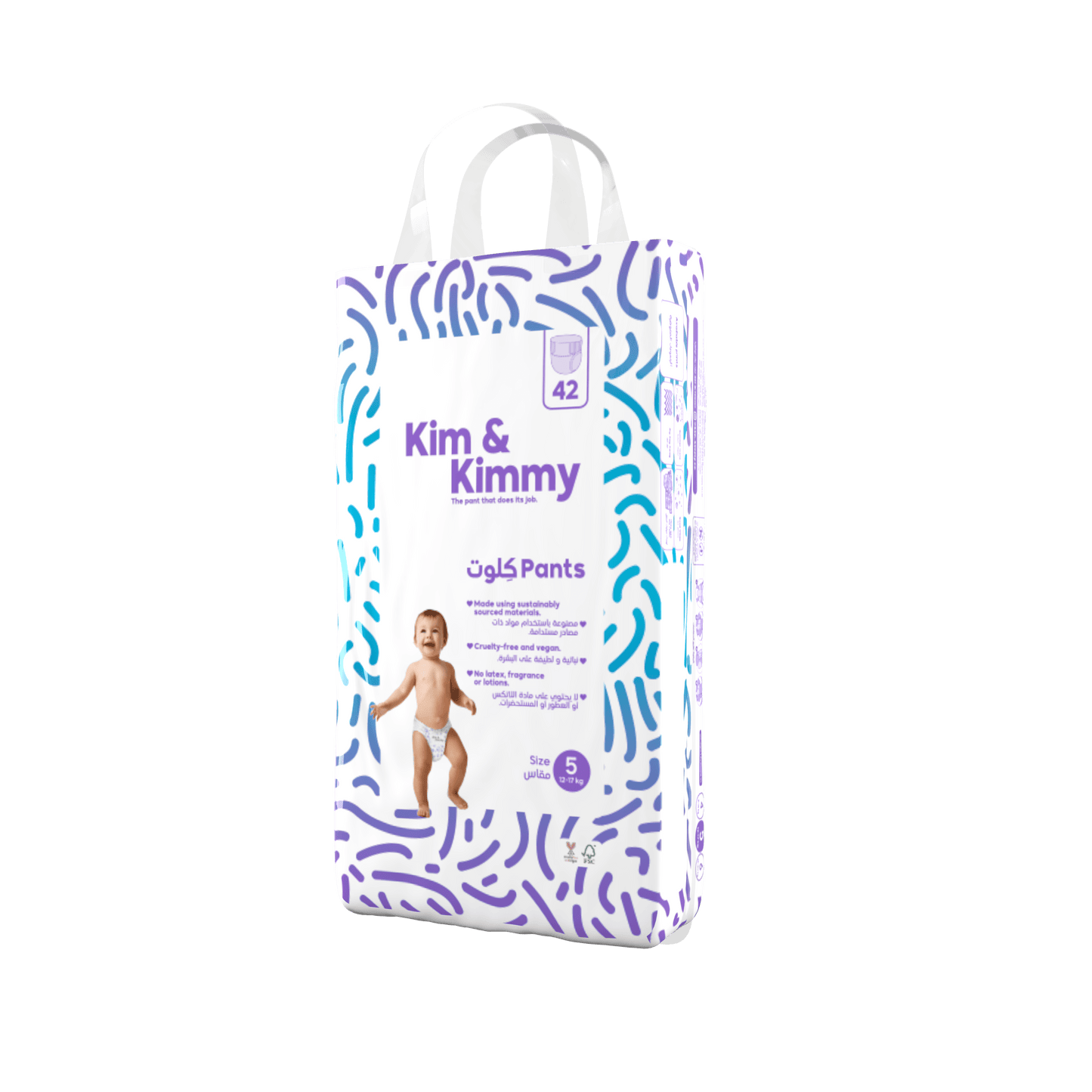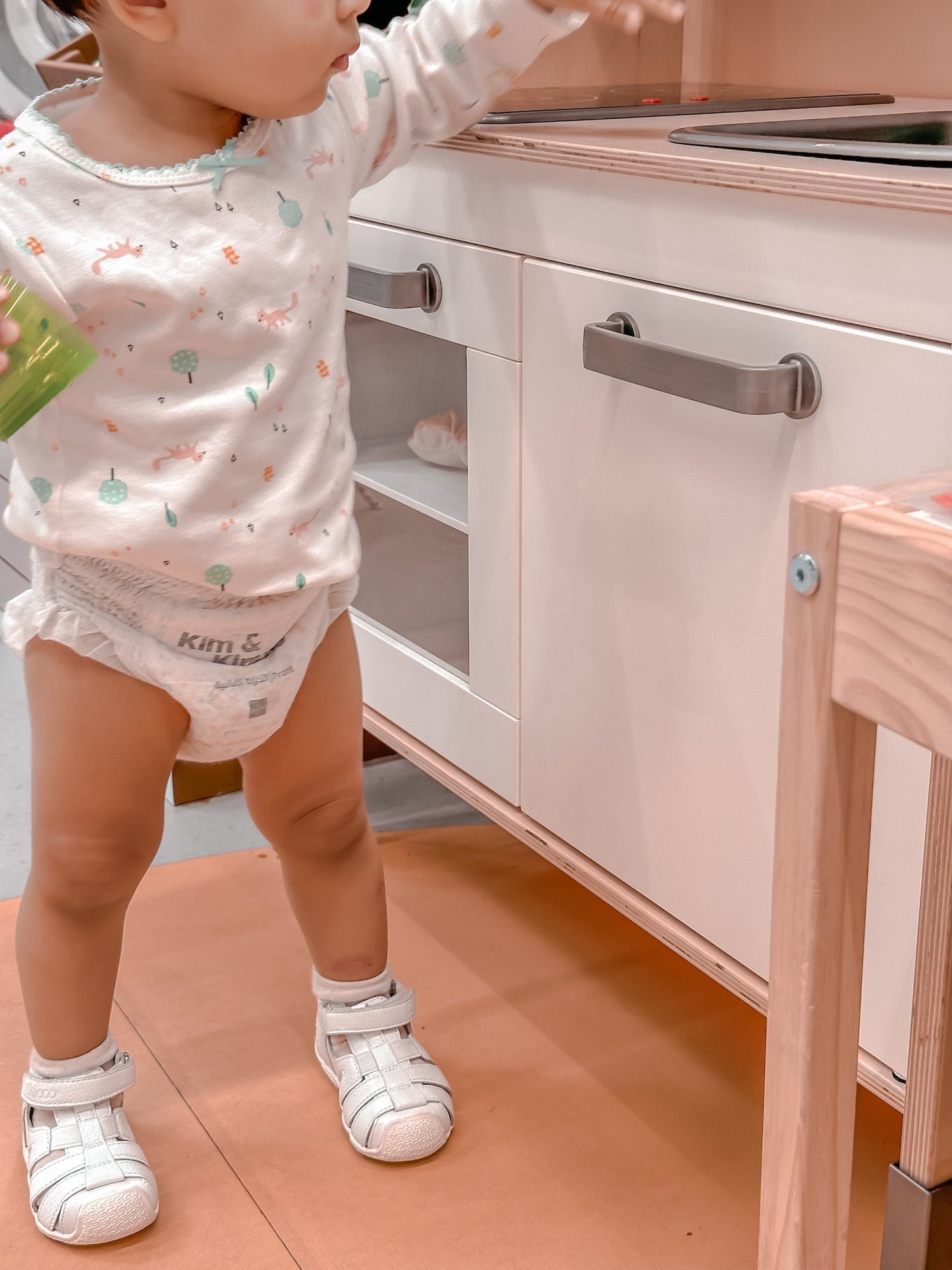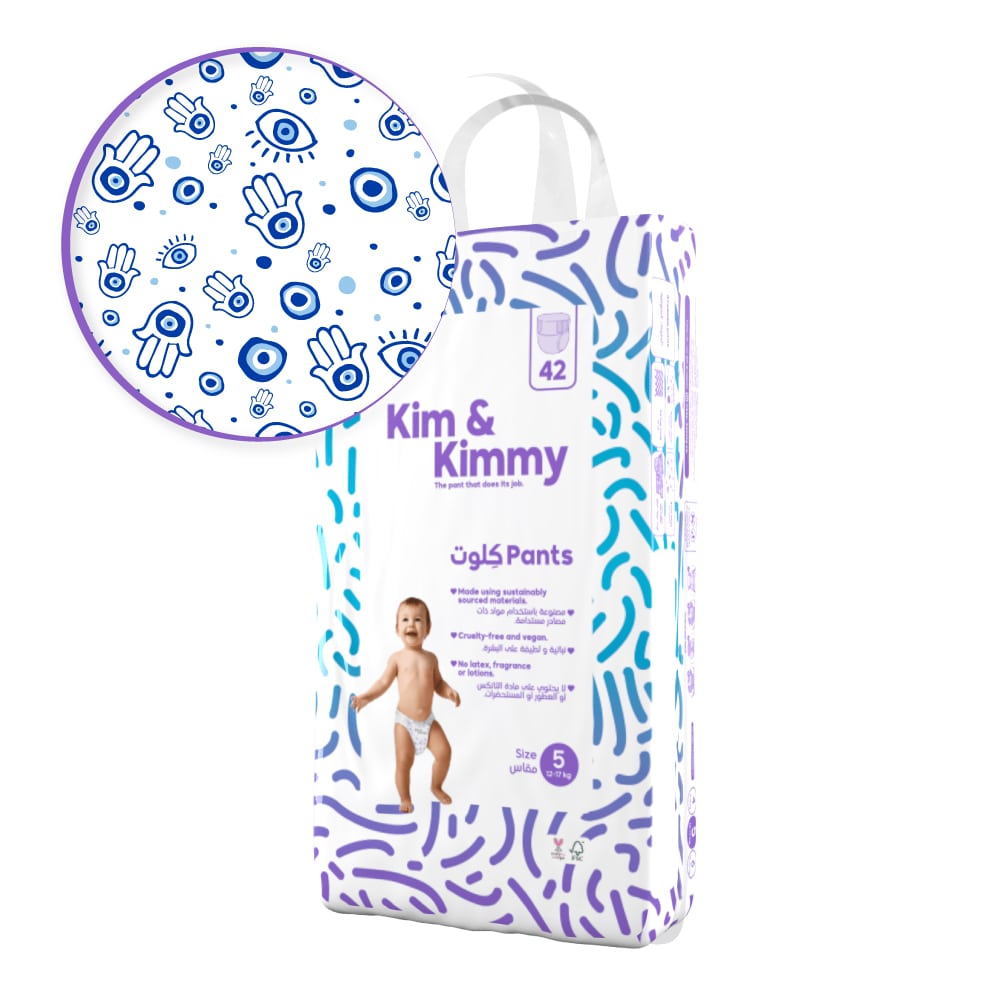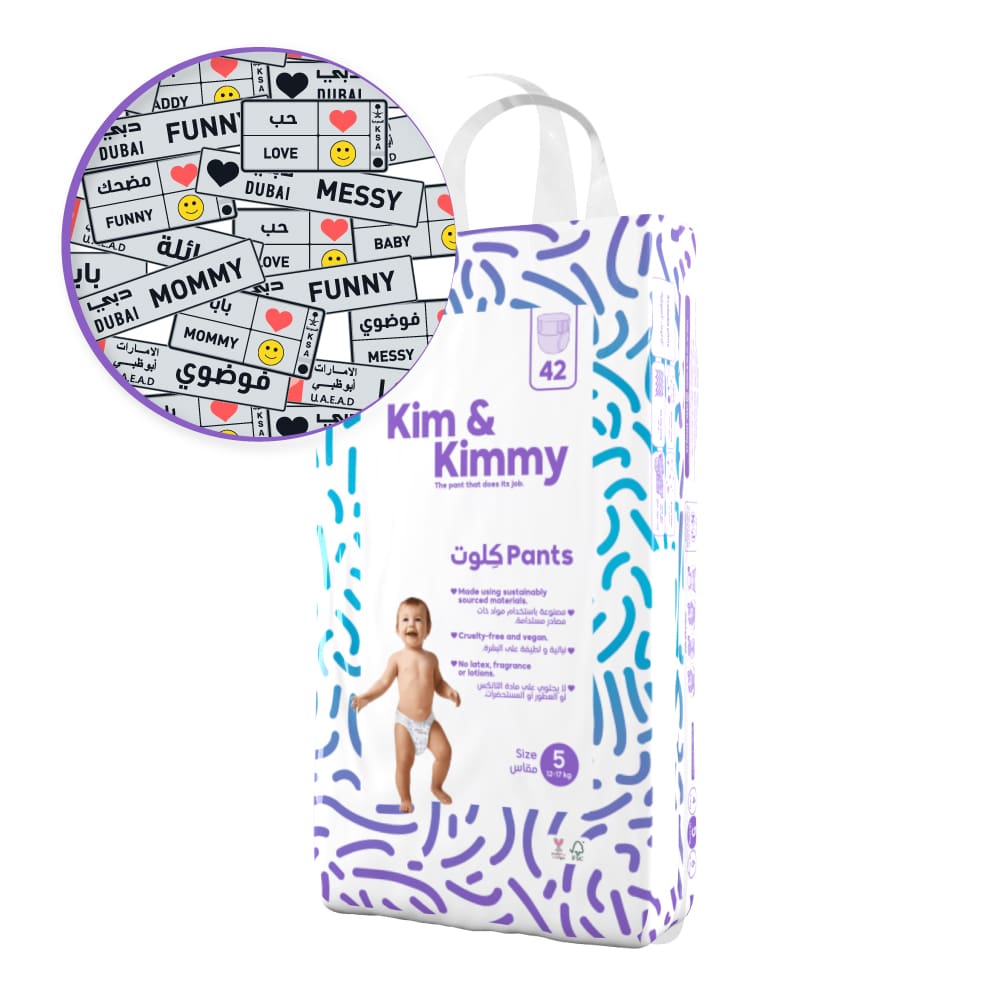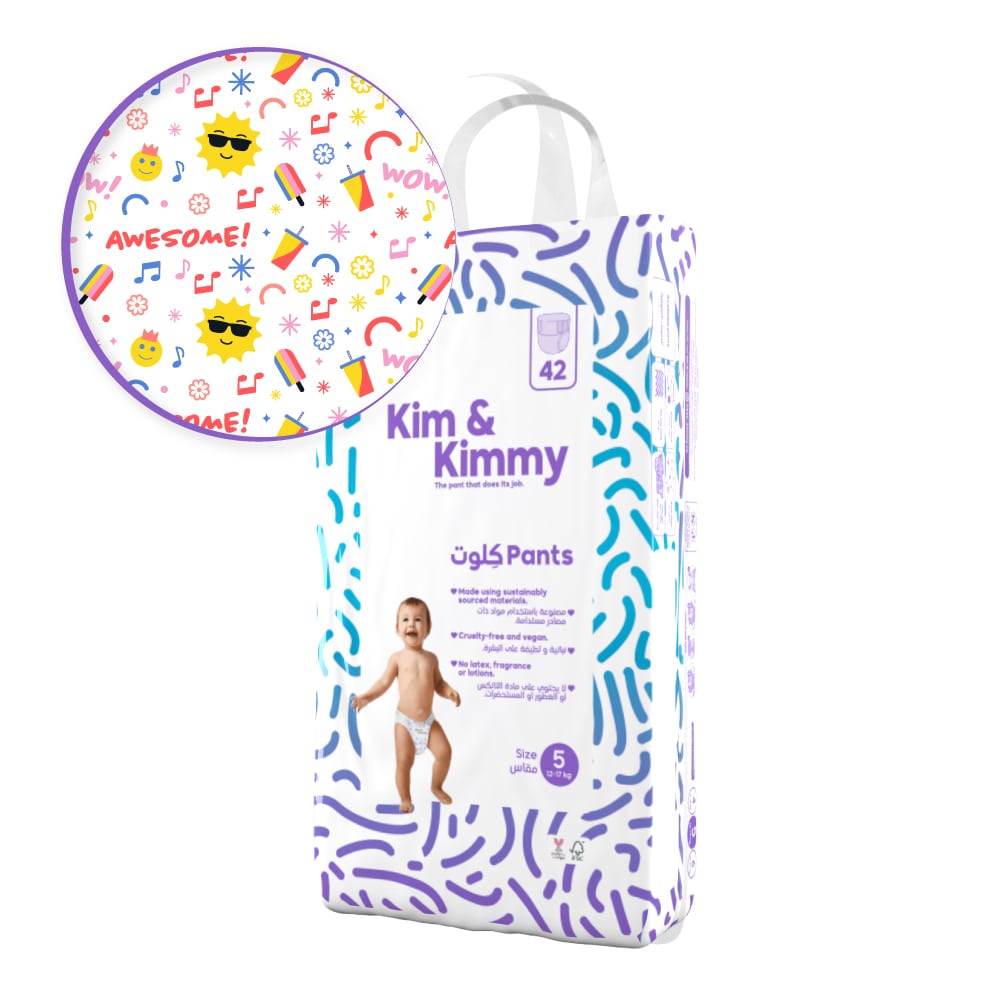 pants size 4
best dipper pants ever used for my baby
اشعر بان الجوده قلت
يحدث تسريب بطريفه مستمره
Love Kim & Kimmy
Best quality, best price, I recommend it to all my friends
5 starts
1. You have best diapers and pants which we ever used 5⭐
2. It will be best to know when exactly order will arrived, something I'm waiting +1 extra day - 4⭐️
3. It will be awesome if I can order "happy bags" for used diapers
الحفاظات لم تكن بنفس الجودة السابقة
The Superior Pant For Active Babies. No Rash, No Leaks, Just All-Day Long Comfort.
Love Them or Get Your Money Back.
No Leaks

Unique & proprietary 3D absorbency technology to guarantee that, tonight, there's no leaks.

No Rashes

Kim & Kimmy pants have absolutely NO nasties (certified by local and international authorities) and incredibly soft.

Jaw-dropping prints

We've collaborated with professional designers to hand-craft each of our pant designs.

Get them today

Order your Kim & Kimmy now - We offer same day delivery for orders placed before 12PM in Dubai. Otherwise, just next day.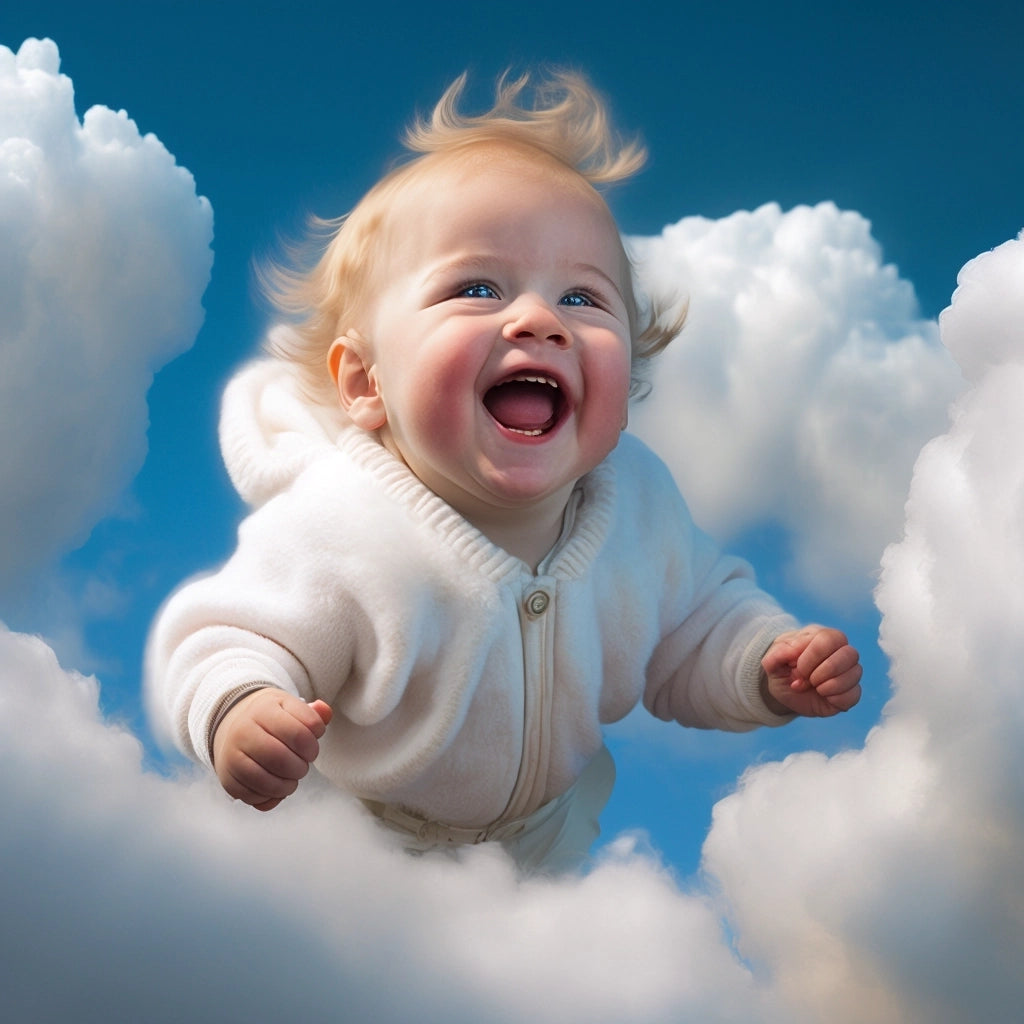 "It Feels Like My Baby Is Riding a Fluffy Cloud"
Is Your Baby Doing Everything That it Wants To Do, Or Is It Holding Off Due to Discomfort? Try Kim & Kimmy And If You Can't Tell The Difference We'll Refund You In Full.No Questions Asked.
Let customers speak for us